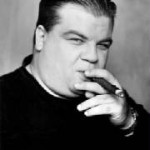 This week on Dialogos Radio, tune in for a special holiday broadcast which will close out 2013 in style! On our broadcast and the Dialogos Interview Series this week, we will be speaking with the renowned Greek-Canadian comedian and actor Angelo Tsarouchas.  Known as "The Funny Greek," Angelo's comedy has been featured in numerous television specials, films, and in front of packed audiences all across the world, including recently in Athens, Greece!  In addition, Angelo has also appeared on the big screen as an actor, having worked alongside such celebrity names as Robert DeNiro and Denzel Washington.  In this week's interview, Angelo will talk about his comedy and acting, what inspires his work, his recent appearance in Athens, and he will share a special message to the world about Greece.
In addition to the interview, we will also be featuring clips of some of Angelo's best stand-up comedy performances, as well as some special music selected especially for the Greek holiday season.
Don't miss this week's broadcast and our interview and feature with Angelo Tsarouchas, only on Dialogos Radio!