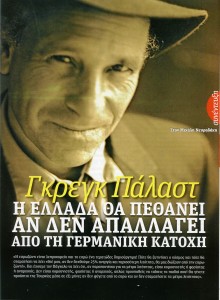 Dialogos Radio's recent interview with the renowned investigative journalist and New York Times bestselling author Greg Palast has just been published in print form, in Hot Doc magazine, one of Greece's foremost and most popular investigative journalism publications.  Highlights of our radio interview with Greg Palast were translated into Greek and published, and the interview is available in the issue of Hot Doc which reached newsstands throughout Greece today (July 11th).  An electronic edition of the magazine can also be purchased online, at the following website: http://www.hotdoc.gr/node/89.
The podcast of our recent radio interview with Greg Palast is available above, by clicking on the "podcasts" link in our menu, or in the recent podcasts box on the right-hand portion of our website.  Our podcasts can also be downloaded from iTunes, TuneIn.com, the BlackBerry Podcast Directory, our official Android app, and elsewhere.
An English-language published version of the interview will soon be available as well.  Stay tuned for details!