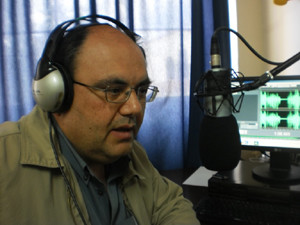 The transcript of Dialogos Radio's interview with the economist and General Secretary of Greece's United Popular Front (EPAM) Dimitris Kazakis. This interview aired on our broadcasts for the week of April 14-20, 2016. Find the podcast of this interview here.
MN: Joining us today on Dialogos Radio and the Dialogos Interview Series is economist, analyst, and the general secretary of Greece's United Popular Front Dimitris Kazakis, who will speak to us today about the latest economic and political developments in Greece and about the hot-button issue of the refugee and migrant crisis in Greece and Europe. Dimitri, thank you for joining us once again.
DK: Thank you for having me.
MN: Before discussing economic developments in Greece, let's first speak about the refugee and migrant crisis. You have spoken extensively about this issue and I wanted to begin by asking you about the recent deal that was reached between the European Union and Turkey, which was co-signed by the Greek government. Is this agreement legal and is it enforceable, and what does international law have to say about the issue?