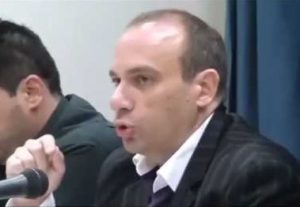 The transcript of Dialogos Radio's interview with economist and analyst Dimitris Karousos. This interview aired on our broadcasts for the week of March 22-28, 2017. Find the podcast of this interview here.
MN: Joining us today on Dialogos Radio and the Dialogos Interview Series is economist and economic analyst Dimitris Karousos, who is a member of the political directorate of Greece's United Popular Front, and who has enjoyed a long career working for financial institutions within and outside of Greece. Mr. Karousos, thank you very much for joining us today.
DK: Thank you for your kind invitation.
MN: Let's begin by discussing the recent deal that was reached between the Greek government and its European lenders. The Greek government has engaged in a big PR show, portraying this new agreement as one that will not deliver even one euro's worth of new austerity measures, as a result of the so-called "equivalent measures" that will be adopted. This begs the question, if the net sum of these new measures is zero, then why enact them? And continuing along this line of thinking, what does the new agreement actually entail and mean for Greece? Continue reading →