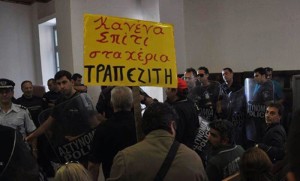 The transcript of Dialogos Radio's interview with Mona Amanatidou and Christos Triarchis of the Popular Stoppage of Payments movement in Greece. This interview aired on our broadcasts for the week of February 4-10, 2016. Find the podcast of this interview here.
MN: Joining us today on Dialogos Radio and the Dialogos Interview Series is Mona Amanatidou and Christos Triarhis from Greece's Popular Stoppage of Payments movement, who will speak to us about this movement and what it is all about, and in addition, about the social and political developments in Greece today. Mona and Christo, thank you for joining us today.
MA: Thank you for calling us from New York and giving us the opportunity to say a few words about what were are doing here in Iraklio.
MN: To begin, share with us a few words about how the Popular Stoppage of Payments movement first began, and a brief historical overview of your movement.