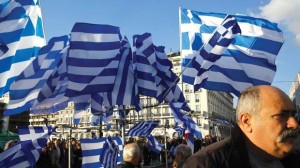 Hear the full interviews of Michael Nevradakis (Dialogos Radio) and investigative journalist Greg Palast, which recently aired on The Julianna Forlano Show on WBAI 99.5 FM in New York City. This recording includes portions of both interviews which were not broadcast over the air.
In these interviews, the new austerity agreement signed by SYRIZA and its complete about-face from the referendum results and pre-election promises are discussed in detail, as is the current situation on the ground in Greece, and the reasons why Greece must still proceed with grexit.
Listen online at http://www.juliannaforlano.com/196/ or get the podcast direct from our website. Our podcasts are also available in the official Dialogos Radio apps for Android, Kindle, and BlackBerry devices and for Google Chrome, and in iTunes, TuneIn.com, the Windows Store, and the Nobex Radio, weCast, PlayerFM, and Stitcher apps.