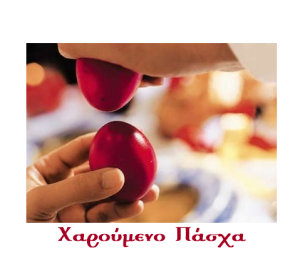 On this Holy Week, tune in for the special Easter edition of Dialogos Radio, a broadcast that will be dedicated to this most holy and significant of holidays for the Hellenic culture.  This week on our broadcast, the Dialogos Interview Series will feature an interview with Anastasios Ntanos, a distinguished writer, poet, and professor at the Higher Technological University of Piraeus in Greece.  In this interview, Ntanos will talk about Greek Easter, its significance and its traditions, about the role of religion and the Greek Orthodox church in the maintenance of the Greek language and culture, about the threats that Greek culture and the Greek langauge face today, and he will also share his own special message for the millions of Greeks of the diaspora.
In addition to this interview, our broadcast this week will also feature specially-selected music for the Greek Easter holiday.  Best wishes to all of our listeners for a Happy Easter…Χρόνια Πολλά, Καλό Πάσχα και Καλή Ανάσταση!
Tune in for this special Easter broadcast this week, only on Dialogos Radio!