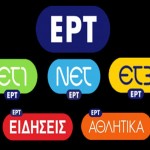 Three fresh new podcasts are now available from Dialogos Radio, and all of them are dedicated to the Greek government's recent sudden and undemocratic shutdown of ERT, Greece's national public broadcaster.  The three podcasts include:
Our special radio broadcast from June 20th, devoted in its entirety to ERT's shutdown and containing seven interviews with ERT journalists, staff, and the general secretary of Reporters Without Borders.
Our recent radio appearance on Athens-based community radio station radiobubble, where we discussed the shutdown of ERT and the real reasons the government acted so urgently in shutting down ERT.
Our recent interview on WUSB's "Lunch on Thursday" program, where we were interviewed on the shutdown of ERT and the latest economic, political, and social conditions in Greece.
All three of these podcasts are avaialble here on our website, and also in iTunes, TuneIn.com, the BlackBerry Podcast Directory, and the official Dialogos Radio app for Android devices, which is freely available in the Google Play Store.