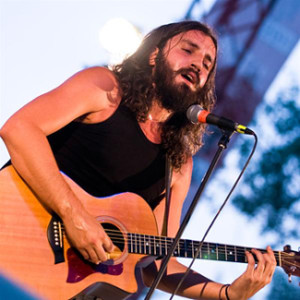 The transcript of Dialogos Radio's special holiday interview with singer-songwriter Leonidas Balafas. This interview aired on our broadcasts for the week of December 17-23, 2015. Find the podcast of this interview here.
MN: Joining us today on Dialogos Radio for our special holiday broadcast is the talented young musician, artist, and lyricist Leonidas Balafas, who will speak to us today about his musical career, his recent hits, and much more. Leonidas, thank you first of all for joining us today.
LB: Thank you for inviting me!
MN: To get us started, share with us a few words about how you began your musical journey and how you made it all the way to the Fame Story reality show in 2006 and 2007.
LB: Ah, a journey back in time! I was crazy about music from a very young age, and with writing songs as well, putting lyrics and words together. I began doing this from junior high school and slowly I began to write my first songs. Of course I also had other interests and jobs besides music, both prior to and after my military conscription, and this continued until I got my first paying musical gig at the "Apanemia" boîte in the Plaka area of Athens. That is where I earned my first income as a musician.
At the Apanemia boîte, I was paid a daily wage and I performed five days per week. That is when the professional aspect was introduced into my music for the first time. The truth is that I always saw, and continue to see, music as an amateur interest of mine first and foremost, but since there is an economic aspect in place as well, that is where I become a quote-unquote "professional."
After my time at the Apanemia boîte, having played there for one year, I performed at some other musical venues, and then I entered the Fame Story reality show as a contestant. I was hesitant at first, but I had a lot of encouragement from those close to me, to take a chance and participate and all of that. At the time, there was no Facebook, just MySpace which was new then, and Youtube. I initially participated in another contest called "All Star Fame," and finished first, and the prize was that after three months I had the opportunity to become a contestant on Fame Story, and I ended up winning that as well. So that's how I got started, and I survived that experience intact, physically and intellectually, and have continued my music and doing what I have been doing since then. I write songs which reflect what I feel and what I believe many other people feel as well.
MN: Despite your major success on Fame Story, you continue to lead a very low-key lifestyle, and you incorporate many experiences from your day-to-day life into your music. What inspires you when you write a new song?
LB: The reality show, Fame Story, was a sort of virtual reality for me. If we consider my experience there a success, in quotations, then that success came mostly out of the monetary prize which I won then. However, I was not under the misimpression that after Fame Story, things would be easy and fall into my lap. Quite the opposite, in fact, and indeed things were difficult, since for the purists and cultural types, I was the guy who sold out and went on the reality show. Additionally, I was at the center of attention for a while and this was quite difficult. When this period passed though and I was once again performing in front of perhaps one or two or three tables, I once again reached a state where I was earning a basic living and I was able to support my family with what I do, with a simple and austere lifestyle without many luxuries.
Now, in terms of what inspires me… when I am experiencing strong feelings about something, when I have an emotional weight on my shoulders, whether that is joy or pain or anything else, this acts as a pipeline of sorts, bringing inspiration to me and allowing me to put those feelings down on paper and to transfer them into my music.
MN: We are speaking with singer-songwriter Leonidas Balafas here on the Christmas edition of Dialogos Radio and the Dialogos Interview Series, and Leonidas, A few months ago, your recent hit, "Na Statho Sta Podia Mou," for which you collaborated with musician Giorgos Nikiforou Zervakis, became something of an Internet sensation. What inspired you to write the lyrics to this song, and did you expect it to become such a runaway success?
LB: Allow me to share a few words with you about this. This song was, first and foremost, a song with a social message. With the help of our director, Thodoris Papadoulakis, the song took on a political character. As it happened, elections were held during the same period that the song was released, and that helped the song really take off without it having been something that we had originally planned or thought of. It just so happened that elections took place at that time and when we uploaded the music video online, a lot of people found out about it and it took off.
The song, of course, had a dynamic and social character, about the person who is having a hard time but who doesn't give up, who continues to find his footing and who refuses to get brought under by difficult circumstances. He may fall and get hurt, but he gets right back up again. I believe that there are many such people in Greece and all around the world who are experiencing this in their own lives, and it is something that I have experienced many times as well through my music and everything else, and there have been times where through certain media and the radio and a lot of other things, I was able to get some support and to continue doing what I am doing. The song says that life goes on and things turn around for each person, for the loneliness that they may be experiencing or for those who are waiting for something big to happen in their lives. These periods may sometimes seem like an eternity but they are temporary, and when someone wants to do something good, they will eventually be rewarded for it, either during their lifetime or after their death. You never know.
MN: You have also become very popular and very beloved by audiences who have enjoyed your live performances, which are said to have a character and personality all their own. Tell us about your live appearances and about the connection that you attempt to build with your fans.
LB: Your questions are really great, Michael, I really appreciate this!
MN: Thank you!
LB: When I go up on stage, even today after having done this for many years, I still feel the same nervousness. This happens each time I am on stage. And because I do not want to feel pigeonholed in any way when I do this work, because I want to feel free when I am performing, what I like to do is to improvise, to break with the program, to say something different, to change up some of the lyrics, and to create something new each time. I might do 10 shows in a row, and each one of them will be different in its own way. In this way, I try as much as possible to let my own personality shine through, to feel some freedom, and I believe that while this may not be evident to everyone in the audience, that there are always those people who understand it, feel it, enjoy it and identify with it, allowing us together to feel free and that we are part of a small circle of friends sharing our feelings and our music with one another, even if I am playing a large venue.
MN: We are speaking with singer-songwriter Leonidas Balafas here on the Christmas edition of Dialogos Radio and the Dialogos Interview Series, and Leonidas, During this period, you are performing a series of live shows in Athens, and in addition, you schedule frequent appearances in other Greek cities as well. Where could our listeners see you perform in the coming period?
LB: Until the end of December I will be playing at the "Stavros tou Notou" club in Athens each Thursday, and these appearances may even continue into January. After that I plan on performing in some other Greek cities, though I do not know which ones yet, while in the recent period I have played in cities such as Thessaloniki, Giannena, Larisa, and Volos. After January, I will also put together a proposal to record new songs, a new album, and to enter the studio sometime in February to begin recording, with the goal of releasing new material this coming summer. If all goes well, I will continue to have the opportunity to perform, winter or summer, anywhere I'm invited!
MN: As you may know, our radio program airs in the United States, Canada, South Africa, and Australia…
LB: …I hope to perform in these places someday as well!
MN: I was just about to ask this question: do you have any plans to perform overseas in the upcoming period?
LB: I would like it very much. But the opportunity just has not presented itself as of yet. There needs to be some action taken, an agreement made, and so forth. As you may know, I don't belong to any major talent agencies that are usually able to schedule such appearances. It's just my best man and I that handle everything, and for better or worse, slowly but surely, we're doing whatever we can. Now, if someone invites us and is able to at the very least cover the travel expenses, we would absolutely be interested!
MN: In closing, what wishes would you like to share with our listeners, both in Greece and overseas, for the holiday period and the new year?
LB: I would like to wish love and joy to everyone, for people to love each other without expecting anything in return, but instead giving and sharing of themselves. I believe that this will allow us all to take a step closer to true happiness. I wish joyous days to everyone, for the beautiful holiday that is Christmas, and for each new day and new year and for always.
MN: Leonida, thank you very much for taking the time to speak with us today, best of luck with your continued musical work, and best wishes from all of us for Merry Christmas and a Happy New Year!
LM: Thank you very much for having me, happy holidays and may God have you well.
MN: We thank you as well.
Please excuse any typos or errors which may exist within this transcript.