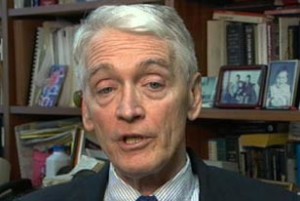 This week on Dialogos Radio, the Dialogos Interview Series will feature an exclusive interview with prominent international lawyer and University of Illinois professor of international law Francis Boyle. Boyle was part of the team of lawyers who charged George W. Bush, Dick Cheney, Tony Blair, Donald Rumsfeld and other members of the United States and United Kingdom governments with war crimes and torture in an international court, resulting in their conviction in absentia on these charges.
In this week's interview, Boyle will discuss the aftermath of this case and conviction, the foreign policy of the United States and NATO and its impacts in the Middle East and elsewhere, the upcoming presidential election in the United States, other issues pertaining to international law and human rights, while Boyle also shares with us his analysis on Greece's national debt and its memorandum agreements with the so-called troika, and what international law has to say about these issues.
In addition this week, we will air a special feature with music written and performed by Greek and international artists, in solidarity with the refugees fleeing the Middle East and the Greek people in the Aegean islands who have helped the incoming refugees. This music will be accompanied by soundbites from the artists themselves, discussing their inspiration in producing this new music. Plus, we will air our commentary of the week segment.
Tune in for all this and more, this week exclusively on Dialogos Radio and the Dialogos Interview Series!