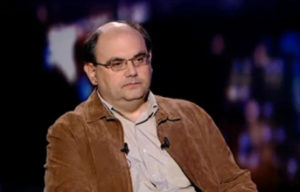 This week, Dialogos Radio and the Dialogos Interview Series will feature an extremely timely and detailed interview with the economist, analyst, and General Secretary of Greece's United Popular Front (EPAM) Dimitris Kazakis. In this week's interview, Kazakis will share with us his analysis of all the latest economic and political developments in Greece, he will talk about the cases of Cyprus and Ireland and why they have not escaped the economic crisis, he will discuss EPAM's proposals for a Greek departure from the Eurozone and from the European Union plus a unilateral write-off of Greece's national debt, and he will also discuss the hot-button issue of the ongoing refugee and migrant crisis.
In addition, we will also air our commentary of the week segment, on the current economic and political developments in Greece and the apathy of much of the Greek population.
All this and more, this week exclusively on Dialogos Radio!