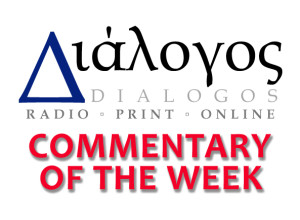 By Michael Nevradakis
Not so long ago, but certainly in a galaxy far, far away, the purported prime minister of Greece gave his state of the union address and told the masses just how great everything in Greece is, under the tenure of the SYRIZA-led coalition government in Greece. At least, one has to assume that Alexis Tsipras does indeed reside in a galaxy far, far away, if he believes all of the nonsense he spouted recently during his annual speech at the Thessaloniki Trade Fair. Why, according to Tsipras, salaries are going up, unemployment is going down, he is going to give raises, he will provide more jobs, schools and public services are all functioning better than ever before, tourism is arriving in Greece in record numbers, and Greece has turned the corner and is headed towards perpetual growth, stability, and sustainability.
That's fantasy island. Now here's reality. There's the story of the elderly woman in Greece who relies upon an oxygen concentrator to live, but who had her electricity cut off, while her son was arrested for protesting the action. There was the street vendor, selling pastries on the street and whose spouse is unemployed, fined €5,000 for unlicensed operation, as part of the government's supposed crusade against purported "tax evaders." Not too far from home in Athens, 17 out of 22 storefronts lie vacant in a three block stretch which also includes a park that is chained shut and filled with overgrown weeds. On the island of Samos, German police patrol the main port, in uniform, while in the mountain villages, residents and shop owners listen to Turkish radio, because no reception of Greek stations is possible.
This is reality. And it is reality in a country that is not ruled by SYRIZA or Alexis Tsipras, but by those whom the government turned the keys of the country over to formally earlier this year. I am speaking of the European Commission, the European Central Bank, the European Stability Mechanism, which holds control over all Greek public assets for at least the next 99 years, and the International Monetary Fund. None of this, though, made it into Tsipras' recent address.
Instead, in Greece, the sell-off continues, as with the recent privatization of the entire national railway, including all of the infrastructure, stations, buildings, rails, trains and everything else, for a mere €45 million, debt-free. The site of the former international airport of Athens, which was once slated to become the largest urban park in Europe, was sold off at a bargain-basement price, soon to become the home of casinos and shopping malls. Public water utilities are next in line to be sold off, despite SYRIZA's pre-election promises to halt and to reverse all of these privatizations which it is now pursuing with zeal.
Tax increases are pursued with equally enthusiastic zeal. The same unified property tax which SYRIZA and their governing partners, the Independent Greeks, once denounced as unconstitutional while instructing citizens how to avoid paying it, will once again be enforced this year, with seven in ten businesses facing increases. Greek citizens will soon be forced to declare all of their assets, right down to family heirlooms and even, quite literally, the amount of cash in their pockets, as part of a nationwide "asset registry" that is being developed, in conjunction with a "national transaction registry" where every bank transaction and every purchase will be tracked. Never mind that Greek citizens are already unable to keep up with this barrage of taxes, as evidenced by the €1 billion shortfall in tax receipts just in the first half of this year. The tax avalanche is accompanied by further cuts to pensions, which were slashed earlier in the summer by as much as half, and which are about to be reduced further. In response to the cuts, Giorgos Katrougalos, the once-anti-austerity labor minister who participated in the 2011 protests of the anti-austerity "indignants," stated that the new system will "protect all Greeks from poverty," adding that had pensions not been reduced, they would not be issued at all. The number of employed workers who remain unpaid has, in the meantime, topped a million, while 500,000 Greeks are paid less than €412 per month for their labor. Only 4.3% of those unemployed were able to find jobs, according to the most recent statistics. Businesses have had their taxes increased, to which Hara Kafantari, a member of parliament with SYRIZA, cynically stated that "the days where a shop owner was his own boss are over." Businesses, families, and degree holders are being driven out of Greece, citizens literally driven out of their homes in many cases, as the government is expecting to collect over €2 billion from home foreclosures and confiscations by the end of the year.
And as all of this is going on, SYRIZA, from its headquarters on fantasy island, has the audacity to continue to claim that it has been meeting its pre-election pledges. Case in point: the recent television licensing bid. One of SYRIZA's numerous pre-election pledges was that it would "rout" the "oligarchs" who control the media. Recently, the SYRIZA government triumphantly claimed to have fulfilled this promise through the completion of the auctioning process for four licenses for national "general-interest" television stations. This announcement was accompanied by claims that "fairness" and "rule of law" had been "restored" after 27 years of "lawlessness", as broadcasters have up until now been operating under a framework of provisional legality.
In reality, though, the process was rife with illegalities, and it completely lacked transparency. It has also put six of Greece's eight largest private television broadcasters in danger of being forced off the air by year's end.
Most significantly, perhaps, is the fact that the licensing process was conducted by the government itself, instead of by Greece's independent licensing body for broadcasters, the National Commission for Radio-Television, which has remained defunct for most of the past year. This contradicts both the Greek constitution and European regulations which call for licensing processes to be conducted by independent bodies. The bid was based on the false premise that there were only enough frequencies available to license four national privately-owned broadcasters—two frequencies with two HD outlets each. This claim is contradicted by the hundreds of digital stations broadcasting in Italian cities and the multiple HD channels per frequency on Britain's Freeview service.
The licensing process also did not include any criteria whatsoever for the quality of programming, for balanced news presentation, or for public service programming. The only criterion which mattered was money, and with a limited amount of licenses being issued, the cost of each license was artificially driven upward, ensuring only the deepest of deep pockets–oligarchs, in other words–could participate.
And just who are the oligarchs who successfully bid for licenses? Two of them, Giannis Alafouzos and Theodoros Kyriakou, own incumbent broadcasters Skai TV and Antenna TV, respectively. These two stations led the vociferous "pro-yes," pro-austerity media brigade prior to the July 2015 referendum. Alafouzos, a shipowner, was found to be in possession of over €50 million in undeclared funds and had his assets frozen last month, pending an investigation for tax evasion. One of Skai's main commentators, Bambis Papadimitriou, is notorious for having suggested that the previous conservative government of New Democracy could benefit from forming a coalition with a "serious" Golden Dawn, Greece's far-right party.
Antenna, like Skai, also vehemently supported the pro-austerity "yes" vote in the 2015 referendum, likening the "yes" versus "no" option to a choice between being "like Europe" or "becoming Zimbabwe."
The cases of the other two licensees, neither of whom are currently in possession of a television station, are even more egregious. One of the winning bidders is Vaggelis Marinakis, a shipping mogul and football magnate, who is facing at least five criminal investigations on charges ranging from match-fixing to directing a criminal organization. Marinakis is also said to have been involved in the case of the "Noor 1," a ship which Greek authorities found to be transporting 2.1 tons of heroin and which may be linked to Marinakis through close associates of his. Marinakis is a city councilman in Piraeus, while his right-hand man from the Olympiacos football club, Yannis Moralis, is mayor. Recently, prosecutors in Greece recommended that Marinakis be jailed pending trial on charges of match-fixing.
But perhaps the most flagrant case of all is that of Christos Kalogritsas, a former publisher-turned-construction magnate, and his son, Ioannis-Vladimiros Kalogritsas. Christos Kalogritsas' construction firm, Toxotis, is the recipient of numerous state contracts issued by the SYRIZA-led government for public works projects throughout Greece.
Notably, Toxotis recently purchased Medousa, a competing construction firm. It was formerly known as Tsipras ATE and owned by Pavlos Tsipras, father of current Prime Minister Alexis Tsipras.
Christos Kalogritsas and his wife are currently facing civil and criminal charges for an alleged €51 million in unpaid taxes. The Kalogritsas family also owns significant shares in Attica Bank, one of the banks which has been repeatedly recapitalized by Greek taxpayers. It is from Attica Bank that Ioannis-Vladimiros Kalogritsas provided a letter of guarantee worth €3 million in order to participate in the television licensing bid. This letter was submitted past the deadline set by the government for participation in the bid, but was nevertheless accepted.
Additionally, Christos Kalogritsas has close ties to current defense minister Panos Kammenos, and the current minister of infrastructure, transport and networks, Christos Spirtzis, whose ministry oversees public works projects and matters pertaining to broadcast frequency allocation. Kalogritsas is also said to maintain a "brotherly" friendship with current minister of state, Nikos Pappas, who oversaw the television licensing process. He is also a primary shareholder of polling firm GPO, one of the many Greek polling firms which receives state funding and which has repeatedly produced grossly inaccurate public opinion and exit poll results.
Further adding to the web of corruption, both Marinakis and the Kalogritsas family are represented by the attorney Giannis Mantzouranis. Mantzouranis also happened to represent the Greek state in the recent television licensing process. Clearly, conflicts of interest are not a concern for SYRIZA. In the late 1980s, Mantzouranis had been jailed as part of the wide-ranging Koskotas money-laundering scandal. He is also one of the attorneys of investigative journalist-turned-SYRIZA cheerleader Kostas Vaxevanis, who through his involvement in the HellasNet network of regional television stations, stands to be one of the beneficiaries of any bid for regional TV licenses.
All of this has taken place while 1,000-2,000 employees in the television sector face unemployment if their stations are forced to close. This would also create a restricted and highly centralized and controlled television market. Tsipras, in a recent speech celebrating the opening of a new stretch of highway (constructed by Toxotis), promised to turn over the €246 million in revenue from the licensing bid "to the poor."
Of course, this assumes that money, which would be paid in three annual installments and only if the stations are profitable, is ever paid. Even so, EU officials have already stated that it will go toward Greece's commitments to its lenders, not to the impoverished. The EU has also questioned the licensing process itself.
Tsipras also omitted from his speech the loss of tax receipts and pension fund contributions from the six stations slated to shut down, and the combined €700 million in debts they owe to Greek banks, which would likely go unpaid if they go off the air and be thrust upon the shoulders of Greek taxpayers instead via yet another recapitalization.
And make no mistake: SYRIZA's "efforts" are not just contained to broadcast licensing. SYRIZA intends to create a state-run body to allocate advertising across media outlets, retaining a 30-percent commission for the state. Earlier in the year, government spokeswoman Olga Gerovasili announced the government's intention to "restore order to the internet," beginning with the creation of a registry of online news outlets and blogs. Registration was mandatory for all outlets which wished to be considered for state advertising expenditures—an easy way for any government to pay its way into the hearts of media owners.
This, ladies and gentlemen, is SYRIZA, the same SYRIZA where the vice president of the government, Giannis Dragasakis, has stated that it was a "mistake" for SYRIZA to have "demonized" the word "memorandum." SYRIZA MP Makis Balaouras recently claimed that "austerity is not in SYRIZA's DNA." Economist Rania Antonopoulou, who holds the ironic portfolio of "alternate minister for combating unemployment," recently wrote in the SYRIZA-owned Avgi newspaper that "the third memorandum has strengthened Greece's position." In a "let 'em eat cake" moment, Deputy Minister for Social Solidarity Theano Fotiou remarked that "stuffed peppers could feed an entire family." Over the summer, the government proudly proclaimed the "loosening" of stifling capital controls—as the restriction on bank withdrawals was changed from a €420 weekly limit, to an €840 cap every two weeks. Do the math. Schools go without janitorial staffs, university restrooms without toilet paper.
All of this while there is nary a thought of departing the Eurozone or following the example of British voters and waving goodbye to the EU. In this modern-day debt colony the so-called "leftist" government has demonstrated an astonishing arrogance in not only violating its pre-election promises and July 2015 referendum result, and agreeing to a third—and the most onerous to date—austerity program, but also continuing to pretend that it is acting in a "leftist" and "progressive" manner.
All the while, it's keeping Greece firmly shackled to the chains of the EU, Eurozone, and IMF, while the Greek people seemingly have lost their pluck, devoid of any fight, resigned to their EU shackles.