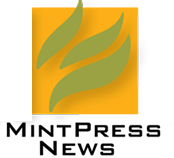 Two of Dialogos Radio's recent interviews have been featured in print, in Mint Press News.
In "The Duran's Alexander Mercouris On "Fake News," Russia Allegations And Change In Europe," Alexander Mercouris, co-founder of The Duran, spoke to us about a wide gamut of issues, providing his analysis of Trump's foreign and defense policies, Russia, the Ukraine, Syria, Brexit, Grexit, and so-called "fake news." This interview can be found at http://www.mintpressnews.com/the-durans-alexander-mercouris-on-fake-news-russia-allegations-and-change-in-europe/226294/.
In "Greece's New Deal From European Lenders Delivers More Neoliberalism," Greek economist and analyst Dimitris Karousos spoke to us about the Greek government's recent agreement with the troika and what it actually entails for Greece, about the difference between a parallel/dual currency and a national domestic currency, and about the steps Greece could follow in order to depart from the Eurozone in an orderly fashion. This interview is available at http://www.mintpressnews.com/greeces-new-deal-from-european-lenders-delivers-more-neoliberalism/226337/.