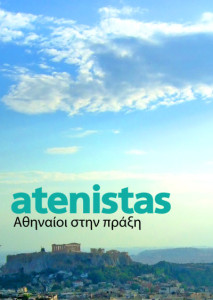 The transcript of Dialogos Radio's interview with Nantia Papadimitriou of the atenistas follows below. This interview aired on December 5-6, 2013. Find the podcast of this interview here.
M.N.: Share a few words with us about the Atenistas, who they are, and how the organization first got started.
N.P. Atenistas is an open group of people living in Athens. We started back in 2010, and the people who inspired the launch of the team are the graphic designer Tasos Halkiopoulos and the journalist Nikos Rigopoulos. They started without really knowing what they wanted to do, just that they wanted to do something for the city they loved. They really thought that Athens has so many things to give to all of us and there are so many nice things we can enjoy in the city. We have existed for almost three and a half years and have completed more than 180 actions, most of them based in the city center, but also in some other neglected neighborhoods around the city center. The Atenistas have cleaned spots around the city, created public parks, have rejuvenated some playgrounds, we have also painted in bright colors schools around Athens, and we have organized a lot of cultural events, helping Athenians get to know their city better, feel safe in the city and to enjoy it. We have organized guided tours in some historic areas and in neighborhoods which are not so popular, and we have organized huge events, such as the concert of the National Opera of Greece in the Varvakeio Market, or the Tango Night at the former Peloponnese Train Station, and we also organized a Swing Night in Omonia Square. We also have another subteam that is working with people that are in need, collecting food, medicine, and clothes. This is what we do in general.